Garage Organization
Is your garage organized enough to head into the winter season? If not, take advantage of the weather to get things done before it's too late. Garage organization is not difficult nor is it expensive. It is however, essential if you want a clean space where everything is relatively easy to find. Whether you have a large garage or just a small space, there are many things that you can do to utilize that space and give yourself a bit of additional storage without taking up the area that you need for cars and other items.
Get Started: Start at one end of the garage going through each and every item and deciding if it's something to keep or get rid of. Have some big garbage bags ready, get some masking tape and label the bags: "Trash" and "Donate".
Organize: Once you've done a thorough purge, break the garage into sections based on the contents. Some ideas might be: gardening, sports equipment, tools, car, etc… Start putting like things together. You may find, duplicates as items get grouped or more reasons to purge, so keep the trash/donation bags handy.
Contain: Once you've got all the items in their proper section of the garage, it's time to decide what storage options are best. Do you need shelving? Maybe some slatwall or pegboard? How about plastic containers for storage? Be sure to make optimal use of vertical space. Since parking the car is the number one priority in the garage, you want to get all other storage necessities up onto the walls.  Once you have your storage options figured out you can put everything away, give the garage a good sweep and…your organized! Sounds easy right? Not always, this can be a huge project for many garages, but the steps are the same, so getting started and sticking with it can be the hardest part. Of course, the organizers at Chaos To Order can work wonders in your garage, if you need extra help, give us a call or schedule an appointment.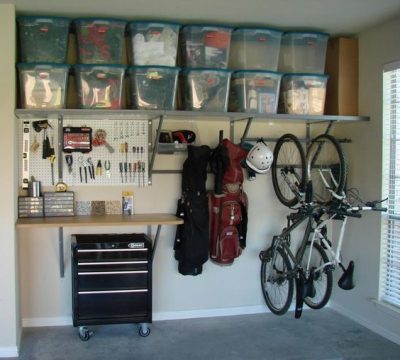 Few Helpful Tips:
A few strategically placed metal shelves and some plastic totes will really help you to get that garage organized. Plastic totes are really cheap and when you label them, you will always know what goes into them so you can find what you need much faster. Remember to stack things that can stack and use totes for things that cannot.
A tower rack in the corner gives you the perfect storage solution for brooms and other long handled items. Many of these are on wheels so you can easily roll them wherever you need them or get a stationary one to keep in the corner for permanent storage.
The key to keeping your garage organized is having a place for everything. Hanging things takes up little to no floor space and utilizes wall space that is typically left forgotten. Putting up a few shelves and hanging systems gives you a place to store plastic bins with items in them as well as larger items like bikes that will hang right on the wall to save space.
Cabinets are really not that difficult to install yourself and you can save a virtual fortune by doing so. You can purchase cabinets already built and then just hang them on the walls yourself. The cabinets are great for storing things and keeping the garage neat and tidy and depending on the size and number of cabinets that you get, you may be able to store everything away so that your garage always looks completely clean.
If you have little room to park your car, cleaning up and getting things organized will help immensely. You can hang a pegboard, which are really inexpensive by the way, and make more floor space. Just get a few hooks to hang tools and garden supplies. You can also hang baskets and small totes from hooks to keep smaller items put away.